Lamentations: From Despair to Prayer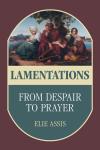 Publisher
Sheffield Phoenix Press
Summary
The destruction of Jerusalem and its temple in the sixth century bce brought its inhabitants pain, a feeling of abandonment by God, and the loss of self-identity—and engendered the six poems of the book of Lamentations. Previous studies of the book have sought for its theological centre, or have read the book solely as an expression of grief, but in this innovative interpretation Elie Assis claims that its main aim is to impart hope to its exiled readers.

The intention of Lamentations is to transport the mourners from despair to prayer, and to offer its assurance that the destruction must only be temporary because God has not severed his covenant with the people. The people's wish to feel themselves desired by God can be fulfilled, and the divine commitment is forever binding.

Through his sensitive literary analysis Assis lays bare a progression of thought within each poem and as well from poem to poem; it is a movement, theological and emotional, from despair in the first poem to prayer and hope in the last.
Last Updated Date : 30/05/2022